Shirol
SHIROL i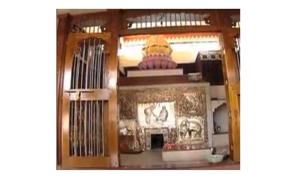 s another important place worth visiting for Lord Dattatreya devotees. Shirol is an industrial area and tehsil in Ichalkaranji subdivision of Kolhapur district in the Indian state of Maharashtra. Shirol is coming up as a satellite suburb of Sangli city and is 10 km from Sangli. It is linked to Sangli and Miraj twin cities by MSRTC city bus service. Travel time from Shirol to Sangli is just 15 minutes. Autos are available from Narsobawadi to reach Shirol.
Shirol is a historic place also. Iit was named "Shirol", because there is story behind it. The story is:"there was great war between the Great Shivaji Maharaj & Mughal's. In that war mughals were defeated & the heads of cruel Mughal soldiers were hanged to main gate of city. So the name Shirol: Shir(heads) + ol(row).
BHOJAN PATRA MANDIR
Daily pooja is performed and there is a big meditation hall in the premises where devotees can sit for a while and meditate.
HOW TO REACH:
By bus:
Sangli can be reached first and from then on state highway SH75 Shirol is located 17 kms from sangli or Auto from Narsobawadi
By Train:
Miraj railway station is connected to major cities by express and superfast trains. You can take MSRTC city buses, auto rickshaws and private cars from Miraj to Shirol. Travel time is 15–20 minutes AS IT IS JUST 13 KMS FROM Miraj.
Other nearest Railway stations are SANGLI AND JAYSINGPUR.
Avadhootha Chinthana Shree Gurudeva Datta