Kadalivan
 Kadalivan or kardaliwan is another kshetra of Sri Datta Guru. This place is located in the interior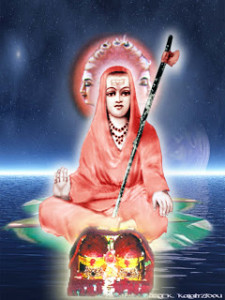 of dense forestcalled Nallamala at the foot of Srisaila hill on the bank of Pathala Ganga. Kadali Vanam is a great Tapo sthanam in Srisaila kshetram. Its importance was described in Skhanda Puranam, Shiva Bhakta vijayam and many more Shaiva texts. Sree Nrisimha saraswati Swamy, the second incarnation of Guru Dattatreya swamy, ends his avatara here by disappearing.
DEPARTED MESSAGE OF SHREE GURU AT THE TIME OF ANTHARDHAN:
Guru Nath along with his four chos en disciples, reached the Kadali-Van (banana grove) on the banks of Patala Ganga at the foot of the Srisaila Parvat. Thereafter, Guru Nath asked His disciples to prepare a float with banana trunks and leaves. The float was prepared. It was bedecked with flowers. Guru Nath asked them to place the float in the waters of the river. He stepped into the float and seated himself on it. The disciples offered their obeisance and worship to Him, while their hearts were bursting with grief at the impending separation for their beloved Lord. Guru Nath cheered them up and told them "My dear children, I am fully aware of the anguish of your hearts at the thought that I am leaving you. But, I assure You again, I will be with you forever and especially at Ganagapur. I will be showering my full grace there on all supplicants, who are sincere, earnest and faithful. Only to make myself inaccessible to agnostics, atheists and the faithless, I am taking this Prasthan. But even so, everyday I will be present at the Amaraja Sangam for my morning bath, and will be visiting the Ganagapur Math for receiving the 'Bhiksha'. Be sure about this, and do not give place for any doubt. I will never be leaving Ganagapur. I will be accepting all worship that will be offered at the Math.
Convey the following advice of mine, which I am giving to you now, to all….'
Believe me, I will be residing in the house of every devotee, ever serving them and showering all grace on them. I will be like the Kamadhenu in the front yard of their house and like the KalpaVriksha in the backyard of the house and like Lakshmi, Saraswati and Parvati residing inside the house. With mere remembrance of me, I respond to everyone".
"Remember also how fond of music I am. Therefore, during Devatarchana time, (during the worship-time) you should invariably also do Bhajan. There is nothing like Bhajan to bind me down in your homes and hearts. In whichever house my name is chanted, there is no scope for poverty or diseases to come anywhere near there. Poverty and disease, all quickly take flight from there. The inmates of the house will be blessed with longevity, that house will be ever prosperous and aplenty. The house will be ever happy and joyous with healthy joyous and playing children and will never be in want of anything".
STORY OF KADALIVAN AND ITS IMPORTANCE:
It was Bahudhayana year, Uttarayana, Bahula Padyani, Friday. The Nakshatra was Pushyami and was especially an auspicious time, Brihaspati entering the Kanya Rasi. Such was the time of the Mahaprasthana of Guru Nath. Krishna Pratipada Shake 1378, as per Hindu calendar and year 1456, Jan or Feb as per English calendar.
JOURNEY TO KADALIVANAM:
The place is nearer to Srisailam which is in Kurnool District of Andhrapradesh. One have to reach Srisailam one day in advance to the trip of Kadalivan. Srisailam is a one of the famous Dwadasha Jyothrilnga Kshetra and One of the Ashtadasha Shakti peetha. It is also one of the powerful Datta kshetra. Dattaguru performed the penance in Srisailam. The second incarnation of Lord Dattatreya, shree Guru Nrusimha saraswathy swamy Maharaj showed his Roopa in the place of SHivalinga to his disciple TANTHUKA. Thanthuka then prayed SHreeguru and said that, there is no difference to Shiva and Shreeguru. He is one and the same. One have to reach Paathalaganga in the morning by 6.00 a.m. Now the AP TOURISM Department arranged the ROPEWAY to the place of the ships/boats and they are presently charging minimum fare to reach the place of boats.
Before reaching Kadalivanam SRI GURU'S CAVE one has to cross AKKA MAHADEVI'S CAVES. Akka mahadevi had been the much known philosopher, ascetic and lyricist, who hailed from Karnataka somewhere in the 12th century. These caves are about 16 kms away from Srisailam . ON THE OPPOSITE RIVER BANK OF Akka Maha Devi Caves six hills are to be crossed and then a plain area covered by grass of nearly 7 kms into the deep forest leads to KADALIVANAM. It is a narrow , rocky , path from Akka Mahadevi Caves. It is present in the opposite bank of Akkamahadevi caves. After crossing the plain area we will reach Kadali Vanam from there we have to climb down about 30 steps to see Kadali Vanam cave. The AP TOURISM boats are running upto AKKAMAHADEVI caves only. So, we have to engage private boats to and fro to Kadalivan. It is advised to visit this place with a batch of minimum 10 to 20 people. As there is a problem of NAXALITES, the private boats are only running on special request only. They are charging the minimum fare of Rs.4000/- to Rs.5000/- (with one Guide) to move to the other bank of Patalaganga and return in the evening.
JOURNEY DETAILS:
One have to travel in the Krishna river in the boat for a minimum of One hour to reach other bank. From there one have to climb the 3 to 4 hills of 7 kms. There is no proper route/road to reach the ANthardhan place.
Most of the route is covered with round shaped rocks and trees. While walking in the path, the rocks under the legs will give troubles and sometimes they will give a moment of slipping obstructions to our walk. It may take nearly 3 to 4 hours to reach the place of ANthardhan depending on the speed of walk.
During the journey of this 3 hours journey, u can't find atleast a waterdrop.  After reaching the ANthardhan plance, there we can find a small lake of water, and the water of lake is chilled and sweety taste and can experience the feelings like "MAY BE AMRUTHA". The ANthardhan place is like a CAVE of one rock roof of  70 to 100 ft width and 8 ft height.  In that cave, we can find one idol of Shreeguru Nrusimha saraswathy swamy, one Shivalinga and Akkamahadevi idols. . Wild animals come out quite often to enjoy a drink of water from the tank outside the cave.
The cave can accommodate nearly 500 persons comfortably at a time. Near the rock shelter flows a perennial stream close to which evidences of prehistoric man in the form of stone tools were discovered. Some devotees are residing in the nights to get real dreams and Pratyaksha Darshan of Shreeguru. Many devotees from Karnataka and ANdhra are visiting this place to get the blessings of Shreeguru. The place is full calm and very suitable for penance. It can be experience that, some divine vibrations are moving around in that place.
HOW TO REACH:
Srisalam has NO railway station. THE NEAREST ONE IS AT MARKAPUR Road or Ongole or Vijayawada. From there APSRTC buses are available to reach Srisailam. Bus journey from Markapur to Srisailam is 2.5 hrs, from Ongole to Srisailam is 5 hours and from Vijayawada to Srisailam is 7 hours.
| | |
| --- | --- |
| By Bus | From Mumbai:THERE ARE NO DIRECT TRAINS TO EITHER MARKAPUR OR Ongole. Ongole CAN BE REACHED VIA VIJAYAWADA , HYDERABAD OR RENIGUNTA JUNCTIONS.MADURAI EXPRESS , NAGERCOIL EXPRESS , CHENNAI EXPRESS AND KANYA KUMARI EXPRESS touch Renigunta junction from mumbai.FROM CHENNAI:From Chennai Egmore to Ongole trains like ANDAMAN , NAVAJIVAN , SANGHAMITRA , HYDERABAD , CHARMINAR , GRAND TRUNK , DHANBAD , HOWRAH MAIL EXPRESS TRAINS ARE AVAILABLEFROM BENGULURU:VIJAYAWADA PASSENGER AND PRASHANTHI EXPRESS are running upto Markapur junction from Bangalore |
| By Air | Nearest Airport Is Rajiv Gandhi International Airport Hyderabad Or Gannavaram (Vijayawada) |
We can go to Pathala Ganga from Srisailam Hill by way of a rope way or we can climb down Steps. From there Boats are available (maintained by AP Tourism board) which take devotees upto Akka Maha Devi caves. From there the devotees have to take the path in the forest to Kadalivanam Datta Cave. Route is clearly mentioned by the boards displayed to the trees in the jungle.
FOOD is arranged to the devotees at Akka mahadevi caves by an ashram called DATTASHRAM. They supply food for those who are going to kadalivan. People can borrow bedsheets and mattress from the ashram which can be used for the night stay in the cave on a returnable basis.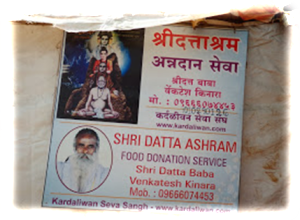 Contact Datta Ashram People On Ph No. 09666074453 Or They Can Be E MailedWww.Kardaliwan.Com
DOS AND DONTS
1. DONOT WEAR BRIGHT COLOURED DRESS LIKE RED,BLUE ,PURPLE , YELLOW ETC. As the journey is through the forest it is advised to wear olive Green , Brown coloured dress materials.
2. Motor boats are available upto a certain point and from there one has to walk. So plan properly with a comfortable foot wear and CARRY THE FIRST AID KIT.
3. Please maintain as much silence as possible as the forest is inhabited by all types of wild animals especially Tigers.
4. Do not disturb the serenity of the place by writing names on the trees harming smaller animals in the forest.
5. Never travel singly. Go in groups of atleast 8-10 numbers.
6. A GROUP CONSISTING OF FEMALES EVEN THOUGH IT IS BIG IN NUMBER IS NOT ADVISED TO GO.
7. OLDER PEOPLE, TOO YOUNG KIDS SHOULD NOT BE ALLOWED IN THE GROUP.
8. Big sound systems and drums are not to be played in the caves while doing bhajans.
9. If possible take a localite with you as a tour guide.
10. The best time to visit is between NOVEMBER and MARCH months
11. Carry TORCH LIGHT, CANDLE/MATCH BOX, Recgargeable light as the caves are dark inside and Mosquito repellent creams.
||VANDAYAAMI NAARASIMHA SARASWATHEESHA PAHIMAAM||