Shree Kshetra Narasimha Wadi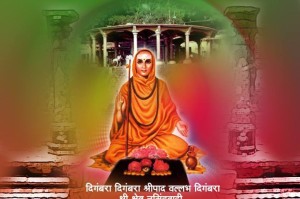 Shri Narasimha Saraswati Swami Dattadeva temple is situated at Narsimhawadi, Kolhapur district in Maharashtra which is situated about 30 km from SANGLI. It is popularly known as "Narsobachi Wadi"or Narasimha Wadi
Shri Nrusinha saraswati swamy stayed in this area with full of Oudumber trees for 12 years and he flourished this region. Shri Nrusinh saraswati while travelling after completing Chaturmas at Oudumber, reached this place . The place has natural beauty and refreshing scenery due to confluence of Krishna and Panchaganga and thick forests of Audumber trees. The Paduka established by Swami are there in that temple. The Pancha Ganga Sagar, which is the confluence of the five holy rivers, Siva, Bhadra, Kumbhi, Bhagwati and Saraswati, where they all meet and merge in the Krishna river
Following is an extract from Guru Charitra Chapter 18:
Sri Narasimha Saraswati visited the Pancha Ganga Sagar. Here is the temple of Amareshwar on the other bank of river and hence the place is called as Amarapur. Nearby is the Sakti Teertha, where reside Sixty-four Yogini Shaktis, serving and worshipping Amareshwar, but unseen by others. Nearby was Papa Vinasini and other holy Teerthas. Sri Krishna Saraswati stayed at Amarapur for 12 years. This place came to be later called as Narsobawadi (Narsobachi Wadi), after Sri Narasimha Saraswati.
From Guru Charitra Chapter 19:
"I am leaving my Padukas here. I will be ever present where my Padukas are worshipped. Whatever wishes to be prayed for, offering worship to the Padukas, they will be granted and fulfilled." – Sri Narasimha Saraswati.
There is an Audumber tree at the center below which Shri Guru used to sit, and the Paduka are established there facing Krishna river there is a open space in front.
The worshippers sit there & adore & worship the Paduka in a sancturay (Gabhara). The door of the Gabhara is very small. The devotee hall in which Paduka are placed has silver metal lining on face portion. At center there is Ganeshpatti on top & sides Peacock, Jay-Vijay images & on upper side Nrusinh Saraswati's image is carved with silver metal-cover. Main worshippers sit here & do worship rituals.
Narsobawadi is a holy place of pilgrim located on the banks of river Krishna. River Panchganga meets river Krishna at this holy place. Shri Narasimha Saraswati was considered as 'Siddha Purusha' (Perfect, almost Godlike being) with Divine powers of healing physical ailments and alleviating worries of his devotees. When people were in utter despair, Shri Nrisimha Saraswati brought about a religious and spiritual renaissance and restored their morale. The Master can be seen even today by the virtuous and the devout. In fact, he has been blessing devotees with his divine acts (leelas) on countless occasions. The aspirations of those who worship him there with true love will be fulfilled. Indeed, the Lord is ever present with those who incessantly adore him. The miraculous experiences of such will ever remain hidden in their own hearts. He is the granter of prayers.
Adhyayaas 20 and 21 of Shree Gurucharitra explaining that how the Padukas of Shreeguru of Narsobawadi are responding to the prayers of the devotees. 20th Adhyay describes that even after the Guru Nath's leaving from Panchaganga Kshetra (Narsobawadi), how his Padukas left under the Audumber Tree continued to respond to the prayers of devotees as per the assurance given to the Yogini-Ganas by Guru Nath. A woman was freed from the Brahma Rakshasa, who caused death to all the children born to her again. The women after worshipping Shri Guru had a dream in which Shri Guru gave her 2 coconuts and as a result 2 sons were born to her. But one of the sons, just when the parents were planning to do his Upanayanam ceremony, dies. Guru Nath in the guise of a Yogi, appears to her and gives philosophical teaching about the inevitability of death and tries to reconcile her to the event, but the woman remained inconsolable..
21st Adhyay describes how Shri Guru Nath, moved by pity at the sorrow of the woman, brings back to life the dead child.
Transportation:
BY TRAIN:
From Hyderabad:Hyderabad to Kolhapur Express train is available. Kolhapur to Narsobawadi buses are available for every one hour(around 52 kms

FROM CHENNAI:No direct train between Chennai and Sangli is available. Best to take from Chennai to Pune then take Bgkt Sbcexp from Pune to Sangli. Distance between chennai and pune: 913 kms
Distance between pune and sangli: 214 kms .

FROM BANGALORE:RANI CHENNAMMA EXPRESS is available from Bangalore to Kolhapur. From there one can reach to Narsobawadi.

From Newdelhi:H.Nizamuddin to Kolhapur Super Fast express is available and from there one can reach to Narsobawadi.

From PUNE/DADAR:Pune Station to Jayasingpur Station
Dadar to Jayasingpur station. JaiSinghpur to Narsobachiwadi Distance 14 kms. Autorikshaws/city buses are available to reach Narsobawadi.

BY BUS:
Pune(Swargate) to Narsobawadi buses are available
BY ROAD:
From Sangli city you can drive down to this place within ~40 minutes, road is narrow but good. There is way to Kolhapur also which shows distance of ~45 Kimlometers.

Sangli city to Narsobachiwadi Distance 22 kms. Private Jeeps/Trax/Sumo are also available from Sangli. Local transportation includes auto rickshaws and city buses from Miraj (around 16 km), ST bus from Kolhapur (around 52 km) and Sangli (around 20 km). Also, from Sangli Bus Stand one can board ST buses to Kurundwad, which again will drop you at Narsobawadi.

For people near to Nipani or Belgaum come first to Kurundwad (1 km from Narsobawadi).
Some routes: Kolhapur – Ichalkaranji – Kurundwad – Narsobawadi, Kolhapur – Jaysingpur – Shirol – Narsobawadi, Miraj – Shirol – Narsobawadi, Nipani – Borgaon – Herwad – Kurundwad – Narsobawadi, Belgaum – Nipani – Chikodi- Raibag- Jalalpur-Borgaon – Herwad – Kurundwad – Narsobawadi.

BY AIR
Kolhapur Airport is there and connected flights are available from Major cities to Kolhapur. From Kolhapur one can reach to Narsobawadi.
ACCOMODATION:
Luxury Hotels/lodges are available with AC and Non-AC accommodation with good boarding facilities.With regard to Bhakt-Nivas, there is an office inside the temple, as soon as you enter, where you can find the location of Bhakt-Nivas.
TEMPLE ADDRESS:
Shri Narasimha Saraswati Swami Datta Deva Sansthan,
Narsobawadi (po), Tal : Shirol, Dist: Kolhapur.
PIN 416104
DAILY RITUALS:
In the daily routine from the dawn. "Maha-pooja with eating leaves and golden crown is worth-seeing. Exept Chaturmas (4 Rainy months) every night the palanquin is taken out before which various hymns are sung. The auspicious, religious atmosphere created is impressing.
It is most advisable to perform/attend the MAHAPUJA to Swamy padukas in the afternoon. Really worth seing. Abhisheka will be performed to padukas. It's really worth seing. The priests will bring the water from Panchaganga sangam by forming a line in a traditional way from river to temple to perform Mahapuja is really good. One can experience the happiness and divyanubhuthi by seing the Mahapuja.
Puja Schedule :-
Dawn: 4.30 to 5.30 a.m. Bhupali and Kakad Aarti (morning prayers)
5.30 a.m to 7 a.m. – Puja of Narsimha Saraswati Shri Dattadeva and Aarti.
Morning: 10 a.m. to 12 a.m. Pancahmrut puja of Shri Dattadeva, recitation
Afternoon : 12.30 p.m. to 1.30 p.m. Mahapuja, Maha naivedam , Aarti.
Afternoon: 1.30 p.m. to 3 p.m. the temple and outer verandah are washed.
Evening : 3 p.m to 6 p.m. according to the occasion, Kirtans(holy songs),
Recitations from the Puranas (holy vedic texts) is done.
Evening : 7 p.m. to 10 p.m. Puja of Shri Dattadeva, Arti, Palkhi ,
Vedic priests recite Shlokas with flower offerings and read from the Vedas to Shri Dattadeva. Night time Aarti is done by the priests
Yearly Programmes are as follows:
Magh Sudha Purnima to Magh Vadhya Panchami (February): Shri Dattadeva's attainment of salvation is celebrated with the reading of the puranas, and singing of the holy songs.
Magh Vadhya Chaturdashi (the 14th day of the Magh month): pujas and Ahishek is done.
Chaitra Shuddha prathama (the festival of Gudi Padwa-or new year in March/April) the new calendar is read out in front of Shri Datta Maharaj.
Chaitra Shuddha –Rama Navami festival (March/April): from the first day of the month to the ninth day, the tradition has been to read out from the puranas, do the pujas, and read out the story of the birth of Lord Rama.
Chaitra, Vaishakh and Shravan months (March/ April, April/May and August/September); from the morning 8 a.m. to 10 a.m. rudra-abhishek of Shri Datta Maharaj is done by the devotees themselves. This is followed by naivedyam and Aarti.
Vaishakh (April/May)month- 27th day: Celebration of the attainment of salvation of Shri Gopal Swami Maharaj.
Vaishakh (April/May) and Jeshta months (June): as certain occasions arise, during the daytime the murti of Shri Dattadeva is worshipped by keeping a constant flow (of water/milk) on it. At night time Pavamana and panch sukta are recited, Abhishek is done by the priests.
Bhadrapad Shuddha Chathurthi (September): on Ganesh Chathurthi, the festivities of the birth of Shripad ShriVallabh take place.
Ashwin-Sudha ek to Shuddha-daha (October, the first day to the tenth day of the month of Ashwin): Sharad Navratri is celebrated. From the tenth day onwards the Palanquin festivities of Narsinha Saraswati Shri Dattadeva begin.
Aswin vadhya shashthi to Ashwin barah (from the seventh to the twelfth day of the month of Ashwin): Guru Dwadashi utsav i.e. the celebration of the attainment of salvation of Shri Narsinha Saraswati Swami Maharaj takes place.
Deepavali utsav Ashwin vadhya chaturdashi to Kartik Sudha Pancahami (from the 14th day of the month of Ashwin to the 15th day of Kartik); in the morning the perfumed holy bath of the murti of Shri Dattadeva and mahapuja is done.
Kartik Shuddha Dwadashi(the twelfth day of the month of Kartik): Tulsi Vivah utsav.
Margshirsh Shuddha shashthi to paurnima (December- the 7th day to the 15th day of the month of margashirsh) Datta jayanti utsav _ festivities of the birth of Lord Dattadeva take place.
Poush Shuddha Dwithiya (January- the second day of the month of Poush): the birth festivities of Shri Narsinha Saraswati take place. Naivedam , Maha Puja. Kirtan(holy songs),
take place continuously for 7 days.
All these festivities are carried out regularly every year by the priests of the temple.