Remedial Mantras
Remedial datta mantras for problems


A human being is composed of five layers: the sthula sharira (the gross physical body), li~nga sharira (the etheric body), sukshma sharira (the astral body), kama sharira (the mental body) and karana sharira (the causal body). parashakti pervades and illuminates all these bodies through different aspects of prana assimilated through different mechanisms e.g. breathing for the sthula sharira. The energetic link between the lower and higher bodies is the breath or prana and the path to transcendence lies in its neutralization. The acts of silencing the mind and the breath are interconnected and mantra is an important way to accomplish both. The generally chaotic mind is regulated through powerful waves of energy generated by the mantra and the focused attention of the sadhaka on the mantra or ishta acts as a means to sublimate the breath and the mind.
No matter how complicated the problem is; whether related to health, finance or anything there is always a Simple Remedy which is the solution. The solution more often  is very simple and uncomplicated and easy to achieve. Here are, some extremely Simple Remedies on matters related to health, finance and other common problems.
Dattatreya is widely worshipped by Hindus all over India. These are some of the Mantras, stotraas recited in the praise of Dattareya.
There are some verses associated with Lord Datātreya that are considered to be potent in removal of afflictions such as poverty, disease, dangers, misery, lack of progeny etc. Each of these can be recited individually several times likes a mantra to get rid of specific afflictions. These verses are recommended by śrī Vāsudevānanda Sarasvatī (Tembe Maharaj). It is not necessary to get any initiation as the following mantras are not having any beejaaksharaas.
In addition to the concerned mantra, one must recite "DIGAMBARA DIGAMBARA SHREE PAADA VALLABHA DIGAMBARA" !! दिगंबरा दिगंबरा श्रीपाद वल्लभ दिगंबरा !! for 108 times which is mandatory as the mantra is always suggested to the world by Shree Tembe swamy Maharaj.
(1)    Sarva Bhaadha Nivaaran
NAMASTHE BHAGAVAN DEVA DATTATREYA JAGATH PRABHO|| SARVA BHAADHA PRASHAMANAM KURU SHANTHIM PRAYACHAME||
నమస్తే భగవన్ దేవ దత్తాత్రేయ జగత్ ప్రభో ||సర్వ భాధా ప్రశమన౦ కురు శా౦తి౦ ప్రయచ్ఛమే||
(2)    Sarva Roga Nivaaran
NAMASTHE BHAGAVAN DEVA DATTATREYA JAGATH PRABHO||SARVA ROGA PRASHAMANAM KURU SHANTHIM PRAYACHAME||
నమస్తే భగవన్ దేవ దత్తాత్రేయ జగత్ ప్రభో||సర్వ రోగ ప్రశమన౦ కురు శా౦తి౦ ప్రయచ్ఛమే||
(3) Sarva Kashta Nivaaran
Anasūyātrisaṃbhūto dattātreyo digaṃbaraḥ || smartṛugāmī svabhaktānām uddhartā bhavasaṅkaṭāt ||
अनसूयात्रिसंभूतो दत्तात्रेयो दिगंबरः | |स्मर्तृगामी स्वभक्तानामुद्धर्ता भवसङ्कटात् ||
అనసూయాత్రి స౦భూతో దత్తాత్రేయో దిగ౦బర: స్మర్తృగామీ స్వభక్తానా౦ ఉధ్ధర్తా భవ స౦కటాత్||
(4)   Daaridra Nivaaran
Daridravipragehe yaḥ śākaṃ bhuktvottamaśriyam ||dadau śrīdattadevaḥ sa dāridryāt cchrīprado.avatu ||
दरिद्रविप्रगेहे यः शाकं भुक्त्वोत्तमश्रियम् ||ददौ श्रीदत्तदेवः स दारिद्र्याच्छ्रीप्रदोऽवतु ||
దరిద్ర విప్రగ్రేహే య: శాక౦ భుక్త్వోత్తమ శ్రియ౦||దదౌ శ్రీ దత్త దేవ: సదా దారిద్ర్యాత్ శ్రీ ప్రదోవతు||
(5)   For Children/Santhaana
dūrīkṛtya piśācārtiṃ jīvayitvā mṛitaṃ sutam || yo.bhūdabhīṣṭadaḥ pātu sa naḥ santānavṛiddhikṛit ||
दूरीकृत्य पिशाचार्तिं जीवयित्वा मृतं सुतम् ||योऽभूदभीष्टदः पातु स नः सन्तानवृद्धिकृत् ||
దూరీకృత్య పిశాచార్తి౦ జీవయిత్వా మృత౦ సుత౦||యో భూదభీష్టదః పాతు సనః స౦తాన వృద్ధికృత్||
(6)   For Sowbhaagya
jīvayāmāsa bhartāraṃ mṛitaṃ satyā hi mṛityuhā || mṛtyuñjayaḥ sa yogīndraḥ saubhāgyaṃ me prayacchatu ||
జీవయామాస భర్తార౦ మృత౦ సత్యాహి మృత్యుహా||మృత్యు౦జయః స యోగీ౦ద్రః సౌభాగ్య౦ మే ప్రయచ్ఛతు||
जीवयामास भर्तारं मृतं सत्या हि मृत्युहा ||मृत्युञ्जयः स योगीन्द्रः सौभाग्यं मे प्रयच्छतु ||
(7)   For Clearing The  Debts And For Getting Back The  Given Money
Atrerātmapradānena yo mukto bhagavān ṛuṇāt ||dattātreyaṃ thamīśānaṃ namāmi ṛuṇamuktaye ||
अत्रेरात्मप्रदानेन यो मुक्तो भगवान् ऋणात् ||दत्तात्रेयं तमीशानं नमामि ऋणमुक्तये ||
అత్రేరాత్మ ప్రదానేన యోముక్తో భగవాన్ ఋణాత్||దత్తాత్రేయ౦ తమీశాన౦ నమామి ఋణముక్తయే||
(8) Sarva Paapa Nivaaran
Atri Putro Mahaa Thejaa|| Dattatreyo Mahaamunihi|| Tasya Smarana Maatrena ||Sarva Paapaihi Pramucchyathe|
అత్రిపుత్రో మహాతేజా దత్తాత్రేయో మహామునిః||తస్య స్మరణ మాత్రేన సర్వ పాపైః ప్రముచ్యతే||
(9) For Dattanugraha
Anasooyasutha ||Shreesha Janapaathaka Naashana|| Digambara Namo Nithyam || Thubhyam Me Varado Bhava|
అనసూయాసుత శ్రీశ జనపాతక నాశన||దిగ౦బర నమో నిత్య౦ తుభ్య౦ మే వరదో భవ||
(10) For Good Education
Vidwatsutha Mavidyam|| Ya Agatham   Loka Ninditham|| Bhinna Jighvam  Bhudham Chakre|| Shree Datta Sharanam Mama||
విద్వత్సుత మవిద్య౦ య అగత౦ లోక ని౦దిత౦|| భిన్న జిహ్వ౦ బుధ౦ చక్రే శ్రీ దత్తః శరణ౦ మమ||
(11)   For Getting The Articles/Cash Stolen By Thieves Or Misplaced
Kaartha Veeryaarjuno Naama Raajaa Baahu Sahasravaan||Thasya Smarana Maatrena Hritham Nashtam Cha Labhyathe||
కార్త వీర్యార్జునో నామ రాజా బాహు సహస్రవాన్|| తస్య స్మరణ మాత్రేన హృత౦ నష్ట౦చ లభ్యతే||
(12) Dattatrey Anushtup Mantra:
Dattatreya Hare Krishna Unmatthaananda Daayaka||Digambara Mune Baala||Pishaacha Gnaana Saagara||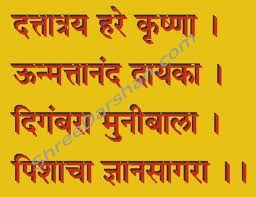 Whoever recites the concerned mantras 1000 times or atleast 108 times everyday for 40 days with shraddha and bhakti, their desires will be fulfilled. Many and many experiences are beenrecorded in the families who have followed the mantras. Miracles also happened like passin the exams with distinction etc., and the experiences are going to be published as Testimonials in the website soon.
(13) A Special And Very Powerful Stotra To Fulfill Any  Genuine Desire
DATTA STAVAM which is given by Shree Vasudevanand Saraswathy swami. One should recite the stotra 9 times daily for 40 days. Stotra is available in different languages in STOTRA LAHARI option in this website. Stotra has tobe recited before taking breakfast and having bath only.
Full shraddha and bhakti is compulsory while recitation of the stotra. Miraculous experiences happened in the lives of families who recited the stotra. Shri Ganapathi Sachidananda swamiji of Mysore is also spreading the stotra widely throught the world. Highly and strongly recommended for everyone.
(14) Good Health For Children
(Mantra has to be recited for 11 times  by keeping Bhasma In the hand and  apply to  Child's  Forehead And Stomach after recitation)
Swaamsenedam Thatham Yena Satwameeshaatri Nandana||Mumcha Mumcha Vipadhyomum Raksha Raksha Hare Shishum||
Praathrmadhyamdine Saayam ||Nishichaapyavasarvathaha||Durdrugodhooli Bhoothaarthi Griha Maatru Grihaadikaan||
Chindi Chindhya Khilaarishtam|| Kamandalvarishooladrik||Traahi Traahi Vibhonityam ||Twadrakshaalamkritham Shishum||
Suptham Sthitham Chopavishtam||Gacchamtham Kwaapi Sarwathaha|| Bho Devaa Vasvinaavesha Kumaaro Vaamanaamayaha ||
Deerghaayurasthu Sathatham || Saha Vojo Balaanvithaha||
స్వా౦శేనేద౦ తత౦ యేన సత్వమీశాత్రి న౦దన||ము౦చము౦చ విపద్ద్యోము౦ రక్షరక్ష హరే శిశు౦||
ప్రాతర్మధ్య౦దినే సాయ౦ నిశిచాప్యవసర్వతః||దుర్దృగోధూళి భూతార్తి గృహమాతృ గ్రహాదికాన్
ఛి౦ది ఛి౦ద్యఖిలారిష్ట౦ కమ౦డల్వరి శూలధృక్||త్రాహి త్రాహి విభో నిత్య౦ త్వద్రక్షాల౦కృత౦ శిశు౦
సుప్త౦ స్థిత౦ చోపవిష్ట౦ గఛ్చ౦త౦ క్వాపి సర్వతః||భోదేవా వశ్వినావేషా కుమారో వామనామయః
దీర్ఘాయురస్తు సతత౦ సహ  ఓజో బలాన్వితః
More mantras soon…
||SHREE DATTAARPANAMASTHU||