Kumasi Kshetra
K
UMASI is a place where Nrusimha Saraswathi (Datta Guru) showed his viswarupa to one of his devotees. The forest where the great sage Valmiki did penance became a well-known holy place. The fame and popularity of any holy place depends upon the great saints and sages who lived there and
worked wonders there. There was once a great philosopher called Shri Trivikram Bharati, who performed penance at Kumasi. He was a great devotee of Shri Narahari and did the Puja with pure Soul in the heart of his hearts. We know from the Gita that Lord Krishna showed his Vishwa Roopa to Arjuna in the battle field. In the same way, Shri Narasimha Saraswati Swami, an incarnation Shri Dattatreya showed Vishwa Roopa to the great sage Shri Trivikram Bharati in Kumashi. We come to know about this story from the 24th chapter of Gurucharitra. Great God has shown Vishwa Roopa only two times from Dwapar Yuga to Kali Yuga. The first Vishwa Roop was shown to Arjuna and the same Vishwa Roop was shown to Shri Trivikram Bharati Swamiji for the second time.
KMUASI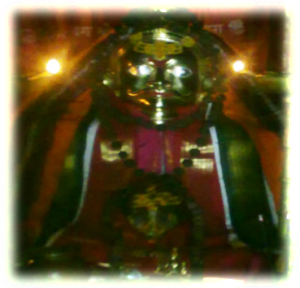 Kumashi, a small town in Sindgi Taluk ,Bijapur district of Karnataka state in India. It is 12 miles away from Ganagapur & 10 kms. away from Almel-Devanagaon Road. It belongs to Gulbarga Division . It is located 14 KM towards North from District head quarters Gulbarga. 14 KM from Gulbarga. 590 KM from State capital Bangalore. Gulbarga , Kalburgi , Shahabad , Wadi are the nearby Cities to Kumasi.
According to chapter 24 of Guru Charitra, there lived a great scholar by name Trivikrama Bharathi who had been a devotee of Lord Laxmi Nrusimha in Kumasi. Trivikrama bharathi studied three Vedas with tremendous knowledge of the Past, Present and Future.
He did Manasa Pooja(a poja performed while sitting in meditation) to his beloved God daily. One day he heard about fame of DattaGuru and passed a comment that being a Sanyasi( one who has foregone all worldly pleasures)Datta Guru cannot lead a high quality life. Realising this Datta Guru asked the village head to arrange for his visit to Kumasi. Elephant, horses, pageantry and musicians were gathered. Shri Guru was seated in a palkhi and a grand procession started towards Kumasi.
As usual when Trivikrama Bharathi sat for his pooja he could not see his God in his meditation and instead he could see Datta Guru with his desciples in a procession.But all the people in the procession were looking alike with a stick in their hands and having the appearance of Sri Guru.
Trivikarama realized the procession  his mistake and immediately went for the darshan of Sri Guru. He fell on Lord's feet and asked for apology and pleaded Lord to show his actual form. Being praised by Trivikram in this way, Shri Guru appeared before him in his real form in the procession. Shri Guru said to him, `You have been criticizing me and have called me a pretender. Just tell me who is a pretender.' Trivikram said, `Kindly pardon me. Wipe off my ignorance. I am sinking in the sea of ignorance. Give me a lift in the boat of knowledge and take me with you.Then Sri Guru accepted him as a disciple and blessed him that Trivikrama would not have to take a birth again.
From then Trivikrama Bharathi became one of the important desciples of Sri Guru. Even today on the banks of Bhima river at Kumasi we can see the Samadhi of Trivikrama Bharathi and a temple of Sri Nrusimha Saraswathi Swamy.
HOW TO REACH
BYTRAIN
THERE IS NO RAILWAY STATION WITHIN 10 Kms RADIUS OF KUMASI VILLAGE. AND NO AIRPORT. THE NEAREST RAILWAY STATION IS WADI OR GULBARGA RAILWAY STATION WHICH IS 17 KmS AWAY.SO Kumasi can be visited by Bus staying at Gulbarga.

From Mumbai to Gulbarga:Madurai , Visakha ,Chennai , Konark , Kanya kumary, Vivek , Hussain sagar and Coimbatore Express trains are available.

From Hyderabad:Konark , Visaka , Mumbai , Hussainsagar Express trains and Hyderabad Bijapur Passenger are available on all week days

From Chennai:CHENNAI , MUMBAI EXPRESS TRAINS AND MUMBAI MAIL ARE AVILABLE ON ALL WEEK DAYS.
:Vandeham Guru Poorna, Bhodhamanisam, Shree Datta Yogeeswaram::