Sree Kshetra Karanja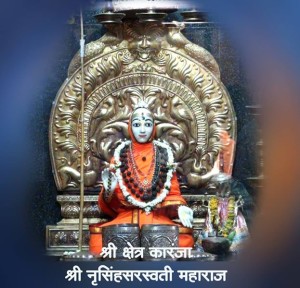 KARANJA is the birth place of Sri Nrusimha Saraswathi Maharaj the second incarnation of Lord Dattatreya. Guru Charitra written by Saraswathi Gangadhar is the holy book which explains about Nrusima Saraswathi(SREE GURU). KARANJA is located in North-Central Maharashtra in Washim District. It lies just off the main State Highways connecting Shegaon, Nagpur, Amravati, Akola, Aurangabad, Nanded, and Adilabad. It is just 30 kilometers from the main Central Railway line from Mumbai to Howrah (via Nagpur).
STORY OF KARANJA
Karanja derives its name from the forest named KARANJ VAN . A sage had his hermitage in this forest who helped the piligrims with his hospitality. He was called SAGE KARANJ. HE was the famous disciple 'Patanjali' of the great saint 'Vashishtha'. Sage Karanj observed that scarcity of water resources caused great discomfort to pilgrims traveling through Karanja. He started digging a tank to collect rain water as well as water flowing from nearby streams and rivers. Goddess Renuka of Mah
ur was immensely pleased with Karanj Rishi's efforts. She blessed him that the tank would have water as sacred as that of the famous rivers such as the Ganga, Godavari, Sharayu, Tapi, etc. . She blessed that anyone drinking water from the tank would invariably attain 'moksha'. The tank exists even today and bears the name "Rishi Talav".
A small river, known as 'Bembla', originates in Karanja. According to local folklore, the river flows underground for a Old Shivmandir few miles, before appearing overground. The river too is of historic significance. The river was formed from the drops of the river Yamuna when Yamuna was traveling with Sun, her father. Thus, the water of the river Bembla is considered very sacred due to its Yamuna heritage. Nature has granted generous water resources around the town. There are ponds (small lakes), on all sides of Karanja, which store rain water. They lift the underground water levels and are also watering points for cattle, wild animals, and birds.
Goddess Shakti made Karanja a permanent abode through her various avatars such as Kamakshi, Ekviraa, Chandravati (Gauri), and Yakshini. It is also stated in the 'Skand-Purana' that 'Chandra' (Moon) was asked to perform penance in Karanja to be relieved of the curse for his evil conduct with his 'Guru-patni', Tara. During his penance, Chandra built a temple for Lord Shiva named as the Chandreshwar temple and a water tank called Chandra Talaav,. Legend has it that due to the blessings of Sage Karanj, all species of snakes are full protected from their traditional enemies such as eagles and vulttures. In gratitude, the snakes blessed the residents of Karanja with full immunity from snake bites.
PAST AND PRESENT OF GUMANDIR
Although it was known for centuries that Shri Nrusimha Saraswati was born in Karanja (the town was known as 'dakshin kashi' then), the exact location of birth was determined around the year 1900. In 1934, the Gurumandir was built at the place of birth due to the untiring efforts of the renowned Shri Datta bhakta, Swami Brahmanand Saraswati. Since then, Karanja has become a major pilgrimage centre for all followers of Shri Dattatreya.
Swami Bramhanand Saraswati, a great disciple of Shri Vasudevananda Saraswati and a renowned Dattabhakta, has been instrumental in establishing Shri Gurumandir.
Swami Bramhanand Saraswati, a great disciple of Shri Vasudevananda Saraswati and a renowned Dattabhakta, has been instrumental in establishing Shri Gurumandir. The house where Shri Nrusimha Saraswatiswami was born is owned by the famous Ghude family. They acquired it from the descendents of the Kale family . The birthplace (janmasthan) is located just behind the Gurumandir Temple.
NARAHARI BECAME NRUSIMHA SARASWATHI WHOM DEVOTEES CALL SREE GURU
Shri Nrusimha Saraswati was born in Karanja, in the late 14th century. His original name was Narahari. Amba Kale and Madhav Kale were his parents. Shri Nrisimha Saraswati spent his childhood period till the upanayan sanskar in Karanja.
Narahari surprised everyone by uttering the word, 'om' imediately after birth. Besides the word 'om', he did not develop the ability to speak during the normal formative years. His parents were very worried that the boy might be dumb. Narahari realised the worries of his parents and conveyed to them by sign language that he would have the speaking power after the 'Upanayan (thread Ceremony)' and they need not worry but plan his 'upanayan' at the right age. The parents felt reassured and at the appropriate age, performed the 'upanayan sanskar'. To the surprise of all, when as a part of the 'sanskar', Narhari came to his mother for 'bhiksha' and the mother gave the first fistful of 'bhiksha', Narhari recited 'Rigveda' in clear tone. At the second fistful from his mother, Narhari recited 'yajurveda' and then the remaining two vedas. All elders and the 'purohits' who were present were convinced that Narahari had divine qualities. They bowed before him with reverence.
A year after the 'upanayan sanskar', young Narahari left for 'Uttar Yatra (pilgrimage)' and enroute, he took 'Sanyas-Diksha' at Kashi (Varanasi) . He was thereafter named 'Nrusimha Saraswati'.
Shri Nrusimha Saraswati spent most of his life in the Krishna-Bhima basin, which today comprises the tri-state region of Maharashtra, Karnataka and Andhra Pradesh. He had divine powers and the common people from all walks of life experienced his divine abilities over a long period. He had many disciples and his work in vitalising the 'Sanatan Vedic Dharma' was remarkable. He rigorously practised the 'vedic' rituals in his daily life.
Shri Nrusimha Saraswati Maharaj is truly regarded as one of the great pioneers of 'Guru-Parampara'. He preached and convinced the total devotion and unflinching faith in one's `Guru' as the surest path to attaining 'moksha'. Karanja, Narsobachiwadi, Ganagapur, Audumber, are some of the prominent places where Shri Nrusimha Saraswati stayed and preached his disciples. He achieved Sainthood and performed several miracles. He imparted spiritual knowledge to his disciples, many of whom themselves attained Sainthood. He ended his 'avatar-karya' In Kadalivanam at Shri Shailyam in Andhra Pradesh.
His life spanned over the late 14th century and greater part of 15th century AD. The 'Guru-Parampara' continues ever after.
ACCOMODTIAON
A Dharmasala is maintained for the devotees coming for Darshan by GURUMANDIR TRUST. Accomodation here is free of cost.
It is very common for the temple priests to invite visitors to stay at their homes for short periods of time.
SPECIAL DAYS
The Gurumandir Temple conducts several major events to celebrate the various avatars of Lord Dattatreya. Over the past 70 years, Gurumandir has become a nucleus for religious and social welfare activities in the North Maharashtra (Vidarbha) region.
A Datta Mandir is also there near Guru Mandir samsthan. A Audumbar tree which is located just adjacent to the mandir is also another place of visit. It is believed that a devotee by name KAWLEKAR from Goa in 1943 had the Darshan of Sree Guru.
HOW TO REACH
BY BUS
Murtajapur is the place nearest to Karanja which has got a railway station as well as Bus Bay. KARANJA is 30 kms from this place and one can reach in 1 hour by bus from Murtajapur. Alternatively Karanja is connected by Buses from Nagpur.
BY AIR
THE NEAREST AIRPORT IS NAGPUR WHICH IS CONNECTED TO ALL PARTS OF IDIA.
BY RAIL
FROM CHENNAI:NAVJEEVAN EXPRESS GOES UPTO MURTAJAPUR ON ALL WEEK DAYSFROM BEGULURU:KARNATAKA EXPRESS RUNS BETWEEN BEGULURU AND BHUSAVAL JUNCTION ON ALL WEEK DAYSHUSAVAL Vidarbha Express , Howrah mail , Howrah express , Shalimar Express , Shewagram Express , Maharastra express , Mumbai mail , Navajivan express , CSTM Amaravatie run to Murtajapur on all week days.

FROM BKARNATAKA EXPRESS RUNS BETWEEN BEGULURU AND BHUSAVAL JUNCTION ON ALL WEEK DAYS.

FROM HYDERABAD:NO DIRECT TRAINS ARE THERE FROM HYDERABAD. SO THE ALTERNATIVE IS TO REACH NAGPUR BY TRAIN AND TRAVEL BY BUS FROM THERE

FROM MUMBAI:Shewagram , Vidarbha , CSTM Amaravatie , Shalimar Express trains are available upto Murtajapur on all week days
Karanja is located on the narrow railway line between Murtajapur and Yavatmal. The only train connecting them over 100 years is called SHAKUNTALA EXPRESS
CONTACT:
SHRI GURU MANDIR SAMSTHAN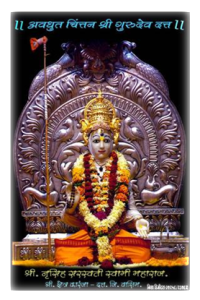 SHRI NRUSIMHA SARASWATHI GURU MAHARAJ JANMASTHAN
KARANJA , WASHIM (DIST)
MAHARASTRA
INDIA 444105
PHONE…..O7256-222455/ 07256-224755