Ethipothala
ETHIPOTHALA is known for Water Falls and is known as a picnic spot to many people. But it is a place where there is a temple of Lord Dattaguru with Ekamukhi . This place is approximately 15 Kms away from Nagarjuna Sagar Dam towards Macherla in Guntur District of Andhra Pradesh. The important feature of the temple is, one can learn the real Bhathi and Viswas on Dattaguru by seing the SUGALIS (a caste of Lambadi of Tribes) here. Nearly 30000 to 50000 devotees are visiting the temple during Dattajayanthi festival. The persons from the Tribal villages coming to this place are don't know the mantras. They don't know the achara. Simply they are having good faith on God Dattatreya. They are coming to the temple and having sleep on one day and next day, they will prepare Sweet pongal with ghee and offering to Swamy by reciting the nama of datta as "DATTAIAH". They are practically telling that, they are enjoying the experience of Darshan of dattaguru and also Dattaiah is fulfilling their desires by coming to this Kshetra. Hence, this khsetra is practically proving that Lord Dattatreya is "SMARTHRUGAAMI".
| | |
| --- | --- |
| | |
MEANING And History:

Ethipothala is a name commonly used to tell about the place . But the actual name had been YATHI (SAGE) TAPOSTHAL(PLACE WHERE YATHIS PERFORMED PENANCE). So it is YATHI-THAPOSTHAL. There as many caves near the water falls which prove the fact that many rishis and yathis did penance here. The same thing is displayed on boards at this place. There is a network of caves that is supposed to have a path leading upto Srisailam. There are some Buddhist sites that are worth visiting.
Locat At:
Nagarjuna sagar Dam is 150 Kms away from the city HYDERABAD. After crossing the dam and travelling 6-7 kms on MACHERLA ROAD there is a board displaying the route to Ethipothala Falls on the left hand side of the road.
Situated on the Chandravanka River, the Ethipothala Falls is a 70 feet high cascade of fresh water . The waterfall is a combination of three streams namely, the Chandra Vanka stream on Macherla, Surya bhaga stream on Nagarjuna hill and Krishna river of Nagarjuna sagar.Hence,it is like a Triveni sangama. The sight of the waterfalls as it cascades down a number of steps is a wonderful sight immediately after the monsoons. Just adjacent to the falls is located DattaGuru's Temple.
SIDHA KSHETRAM:
This too is a siddhakshetram. The Dattamandiram is atop a small hillock. The Datta is in His Unmatta state(Unmatta state is a blissfully intoxicated state–the gross parallel which is the state where someone consumes canibis or ganja!)Below the hillock is the Madhumathy Devi Alayam. The Uttaranga mantras for Anushtup are Madhumati Mahavidya and Sri Datta Sahasrakshari
It is very rareto find such a Mandira wherein both Lord Dattatreya and Goddess Madhumathy devi are together.Yogalaxmi devi is there in the form of Madhumathi devi here.The rule here is that first one must have a Darshan of the Goddess and then have Datta-darshana. In this kshetra, Dattaguru is fulfilling the desires in the form of Swapna(dreams), Sparsha(touch), Drishya(vision) and vachasa vidhana. This kshetra is an ANANDA NILAYA for Poorna yoga and Paripoorna yoga.The form of Dattatreya in this kshetra is same as in Dhyana sloka of Dattatreya.
MAALA KAMANDALU || RADHAH KARA PADMA YUGME||
MADHYASTHA PAANI YUGALE|| DHAMARU TRISHOOLE||
YASYASTHA VOORDHVA KARAYOH|| SHUBHA SANKHA CHAKRE||
VANDE TAMATRI VARADAM|| BHUJA SHATKA YUKTHAM||
UNIQUE FEATURES OF THE TEMPLE:
1.Lord Dattatreya stays in Unmatha sthithi forever.
2. Siddhas,devas,munis and rishis come in adrusharoopas(etheric forms) and worship Lord Dattatreya.
3. There are many mysterious voices/sounds/shabdas which are heard in the midnight in the temple after the TEMPLE is closed and many devotees say that this is "proof for the devas and siddhas to frequent the temple.
4. The Datattreya here is with His shakthi Madhumathy(consort/wife) and thus He is said to grant boons to all who come and though in a yogasamadhi nistha is soumya.
Madhurmathi devi context is also recited in the seventh section of the fourth chapter from the Thaithreeya collection of Krishna Yajur Veda.
ॐ इडा॑ दॆव॒हूर्-मनु॑र्-यज्ञ॒नीर्-बृह॒स्पति॑रुक्थाम॒दानि॑ शग्ंसिष॒द्-विश्वॆ॑-दॆ॒वाः सू॓क्त॒वाचः॒ पृथि॑विमात॒र्मा मा॑ हिग्ंसी॒र्-म॒धु॑ मनिष्यॆ॒ मधु॑ जनिष्यॆ॒ मधु॑ वक्ष्यामि॒ मधु॑ वदिष्यामि॒ मधु॑मतीं दॆ॒वॆभ्यॊ॒ वाच॒मुद्यासग्ंशुश्रूषॆ॒ण्या॓म् मनु॒ष्यॆ॓भ्य॒स्तं मा॑ दॆ॒वा अ॑वन्तु शॊ॒भायै॑ पि॒तरॊஉनु॑मदन्तु ॥ ॐ शान्तिः॒ शान्तिः॒ शान्तिः॑ ॥
In English:
Oṃ iḍā' devahūr-manu'r-yajஉjanīr-bṛhaspati'rukthāmadāni' śagṃsiṣad-viśve'-devāḥ sū"ktavācaḥ pṛthi'vimātarmā mā' higṃsīr-madhu' maniṣye madhu' janiṣye madhu' vakṣyāmi madhu' vadiṣyāmi madhu'matīṃ devebhyo vācamudyāsagṃśuśrūṣeṇyā"m manuṣye"bhyastaṃ mā' devā a'vantu śobhāyai' pitaronu'madantu || oṃ śāṃtiḥ śāṃtiḥ śānti'ḥ ||
In Telugu:
ఓం ఇడా' దేవహూర్-మను'ర్-యజ్உజనీర్-బృహస్పతి'రుక్థామదాని' శగ్ంసిషద్-విశ్వే'-దేవాః సూ"క్తవాచః పృథి'విమాతర్మా మా' హిగ్ంసీర్-మధు' మనిష్యే మధు' జనిష్యే మధు' వక్ష్యామి మధు' వదిష్యామి మధు'మతీం దేవేభ్యో వాచముద్యాసగ్ంశుశ్రూషేణ్యా"మ్ మనుష్యే"భ్యస్తం మా' దేవా అ'వంతు శోభాయై' పితరోஉను'మదంతు || ఓం శాంతిః శాంతిః శాంతిః' ||
5. It is the more of the place that one should place any requests or prayers to Madhumathy devi and then go with a free mind(Digambara mana) to Dattatreya
6. This Datatreya is also called "Aadi Datattreya vaaru".It is believed that Sreemadhvaaart Pothuluri Veerabrahmendra Yogi went to Vijayawada Kanakadurga and then He came to this place(Kandimallaayapalle visit description in His charitra) to worship Lord Dattatreya.
7. Though Lord Dattatreya is a Hindu God people carry Green Coloured Flags to the temple which depicts Unity in Diversity.
Special Puja utsavas in the temple:
Devi navaratris in Ashweeja masa, Abhishekas in Kaartheeka masa and Dattatreya jayanthi in Margaseersha masa.
ACCOMODATION:
On site, there is a Haritha Resort which has 2 air conditioned double rooms and 6 non air conditioned rooms maintained by AP Tourism Department. There is a big lawn in front of the hotel and most of the times the place is visited by MONKEYS.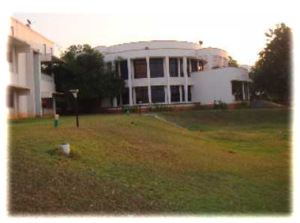 Night stay at Ethipothala is worth staying because a light show is held in the falls.
WHOM TO CONTACT:
One can book the rooms from any of the A P Tourism Offices in the country.
AP Tourism, Ethipothala: 08680-277361
AP Tourism, Punnami Hill Colony: 08680-276540
AP Tourism, Vijay Vihar: 08680-277363/277363
Vamsha paaramparya Sadhakaas from 18 th Century:
1. Shri Kurumeti Ambaiah sastry, 2.Kurumeti Kabbaiah sastry, 3.Kurumeti Subbaih sastry4.Kurumeti Veeraiah Sastry etc.,
The existing pujaris who are performing the pujas to GuruDattatreya are Shri Kurumeti Dattatreya Sharma, Ramaseshaiah Sarma and Satyanarayana Sarma.
Pujaris are residing at Tallapalli village nearer to Ethipothala. Every day, they will come to the temple in the morning and perform daily pujas/abhishekas there.
HOW TO REACH:
Nearest Airport is RAJIV GANDHI INTERNATIONAL AIRPORT SHAMSHABAD, HYDERABAD which is 150 Kms from Nagarjuna sagar Dam.
Frequent Buses are available from Hyderabad , Warangal and Vijayawada .Nearest Railway station is Guntur. Or the best way is to reach Hyderabad and hire a Taxi.
VERY IMPORTANT POINTS TO REMEMBER:
1. Beneath the water falls there is a crocodile breeding point maintained by Govt. It is highly dangerous to swim in the waters. The same thing is displayed on boards for the safety of visitors.
2.Before booking the rooms please enquire about the water levels , power cut timings if any , Break fast , Lunch and Dinner Timings of the Hotels.
3.Carry the First Aid kit , Mosquito repellents , torch lights for convenience.
4.The best time to visit the place is after Monsoons.
5.Telephone Connectivity problems are there in Ethipothala as the nearest tower is at Macherla.